Catnip Toys That Actually Work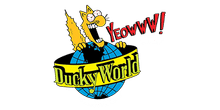 SNIFFANY'S of YORK is proud to carry Yeoww! in York, Pennsylvania. DuckyWorld closely works with private farmers to grow, manage and harvest the best organically grown catnip on the Earth. We also obtain samples from additional professional growers each year to ensure that we are offering the highest quality based on freshness, color and aroma. No chemicals or pesticides are used in cultivation, which means Yeowww!® Catnip is completely safe for cats and humans. The signature all leaf and flower top blend ensures Yeowww!® Catnip to be the most effective on the market that no competitor can compete with!
Each and every one of our toys is completely filled with our fabulous catnip. 100% stuffed FULL of premium, organically grown catnip. No cotton fillers, no plastic pieces, and certainly none of that cheaper 'toy grade' stuff. After all, they are catnip toys – shouldn't they be filled with catnip? We think so and filling them to the max with Yeowww!® Catnip gives you the best value.
Cat Toys
YEOWWW! RAINBOW
CHUBBY MOUSE
LADY KRINKLE BUG
YEOWWW! BANANA
YEOWWW! HEARRRT ATTACKS
YEOWWW! POLLOCK FISH
YEOWWW! GREEN AND YELLOW FISH
CATNIP PILLOWS
YEOWWW! CIGARS
YEOWWW! APPLE
What York Customers Are Saying
We love our customers from York areas around West York, Grantley, Spry, Dallastown, Red Lion, Leaders Heights, Shrewsbury, Dover, Ore Valley, Locust Grove, East York, Stonybrook, Yorklyn, Pleasureville, Hallam, Wrightsville, Columbia, Manchester, Thomasville, Spring Grove, Mt. Zion, Baltimore, Washington D.C., & more!
Visit our upscale pet boutique in York, PA specializing in professional pet grooming, quality food, treats, and accessories for cats and dogs.